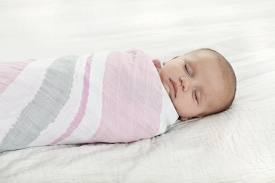 Planning a Baby's Nursery
For many soon-to-be parents, planning and creating the perfect nursery is both enormously exciting, and incredibly daunting. Once those parental instincts kick in, many soon-to-be mothers and fathers want nothing less than perfection for their new arrival, and that means designing a nursery that is safe, practical and beautiful – with no compromise.
Luckily, those three cornerstones of the ideal nursery can be achieved with these simple steps. If you're in the process of planning your baby's nursery, read on to discover how you can design the perfect environment for their early years.
Focus on investment pieces
There are three main items you'll need to invest in when you're designing your little one's nursery: the cot, the changing table and the nursery chair. The cot is perhaps the most important – it needs to be safe, sturdy and comfortable for your child, as well as fitting in with the overall theme of their room.
The changing table must also be safe and sturdy, and come with plenty of storage for nappies, wipes, creams and other essential items. In those early months, it may feel like your baby spends as much time on the changing table as they do in the cot, so it's certainly worth making the effort!
The nursery chair is also vital for new mums who will be nursing their little one. A rocking chair is ideal – it can soothe baby and keep mum comfortable while her child feeds. If not a rocking chair, then a very comfortable armchair with a footstool, perfect to help mum or dad catch up with some sleep while their new arrival naps nearby!
Choose a relaxing colour scheme
The colours of your nursery are certainly important. Many parents opt straight for the pink or the blue depending on the gender of their baby, but neutral colours can create a more relaxing and soothing environment. Consider beige tones, with hints of green to forge a connection with nature. Bright primary colours might seem suitable for a nursery, but vibrant shades can cause overstimulation and may lead to some sleepless nights!
Adding a personal touch
A nursery should not feel cold or clinical – it should be cosy, comfortable and innately personal. Try to introduce some sentimental items into the room - photos and hand-crafted items work perfectly. You might also find that relatives are queueing up to hand over their old furniture and accessories. This can add a uniquely personal touch to the room, whether you're adding granny's old rocking chair, an auntie's comfort blanket or a cuddly toy passed down through the generations.
Practicality over all else
There's no use a nursery looking fantastic if it's not practical. Your baby will play in this room, so it needs to be safe. You'll also carry out a lot of nappy changes and naptimes in this room, and it must meet the needs of you and your child. Consider features like blackout blinds to help with naptime, and be sure to install as much storage as possible for bibs, toys, blankets, changing bags and the mountain of other essentials that come with new babies.
Do you have any tips to share when it comes to nursery planning? We'd love to hear them in the comments below – get in touch!