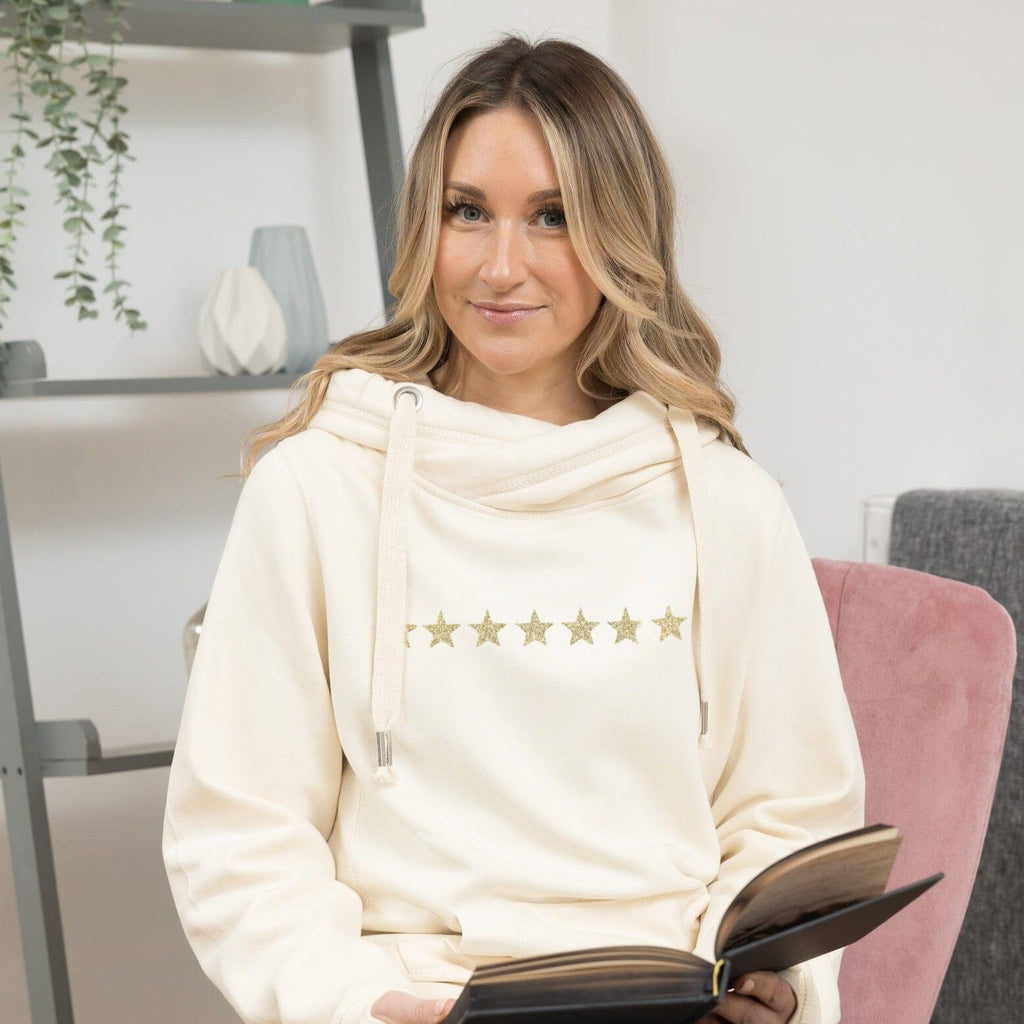 Vanilla and Light Gold Glitter Stars Cowl Neck Hoodie
This lovely cowl neck hoodie is a warm vanilla colour with a row of small glitter stars.  The stars are a chic hand drawn design in a light gold colour, which is a gorgeous combination.
The hoodie is supersoft with a crossover cowl neck and chunky drawstrings.  Created from premium quality, heavyweight sweatshirt it is truly gorgeous. A luxurious sweatshirt, with a large pocket.
The sweatshirt also has thumbholes in the sleeves to keep hands warm and Pouch pocket.
Professionally designed and printed in our studio in Surrey.
Please check sizes carefully as every item is hand printed just for you. You can see the cowl neck hoodie size chart here > https://www.bettybramble.co.uk/pages/ladies-sweatshirt-size-guide  
The easiest way to guarantee the perfect fit is to lay a favourite sweatshirt flat and compare the measurements.
Love the vanilla colour and gold sparklie stars
Loving the colour against the gold stars. I sized up and glad I did, it fits perfectly. I like to tuck the bottom under, so its not too long and as the bottom band is quite fitted this works well.
Been looking for this hoodie forever!
I absolutely love this hoodie! A cowl neck, a hood and thumb holes in one top! I've had so many compliments even from strangers.
I would recommend sizing up as I like my hoodies oversized but I guess that's just my taste. If you like yours more fitting then I would stick with the sizing chart. I'll definitely be back for more colours when it gets cold enough. Never been pleased to see the end of summer before so I can wear this more!