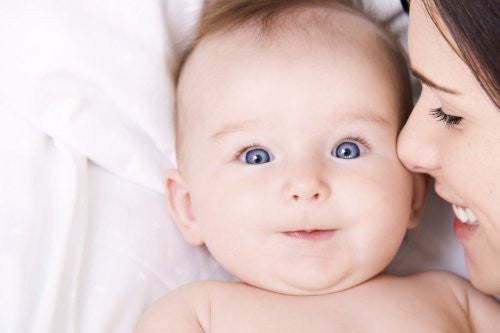 Five Essential Items To Make Life As A New Mum Easier
Life as a new mother is tough; it's one of the biggest challenges any woman will face in her lifetime. There are new skills to learn, new schedules to stick to, and a whole new person you have to get to know – your little one. It's a whirlwind of emotion, intensified only by the sleep-deprivation that will undoubtedly occur!
During this daunting time, many women look for products and items that can help them in any way possible. From making nursing easier to making the most of their downtime when baby is napping, there are a multitude of products out there which can help new mothers adjust to this challenging lifestyle, while finding their own way as a parent. Take a look at our must-have essentials:
A comfortable chair
Whether it's a rocking chair or simply a comfortable armchair, you'll need somewhere comfortable to sit during those first few weeks – especially if you're breastfeeding. The soothing motion of a rocking chair can also help babies drift off to sleep, which is helpful for sleep-deprived mums adjusting to their new schedule. You'll spend a lot of time in this chair during the first year of your little one's life, so it's certainly worth ensuring it's durable and cosy!
White noise
White noise generators are very popular for soothing babies. Some babies can take a while to adjust to total silence outside of the womb – after all, they've grown accustomed to the constant sounds of your body moving around them. A white noise generator can provide a little background sound to help your baby relax or calm them down.
A baby sling
Holding your baby against your body in a sling frees up your arms and makes breastfeed easy and discreet. You'll never realise how much you use your arms until you have a baby in them around-the-clock! With a sling, you'll be able to tackle some light housework or cook yourself a nice meal – and all with the added comfort of knowing that your little one is safe and secure against your body.
'Me-time'
Every precious moment you get to yourself as a new mum should be cherished and appreciated. Once or twice a week, if you can, it's worth designating a half-hour slot where you can hand over the baby to your partner, a family member or a friend, so that you can focus on yourself. Take a bubble bath, go for a walk, have a nap, read the next chapter of a book – take some time out and focus on yourself.
Comfortable clothes
Your body will still be in recovery after giving birth – there's no need to pressure yourself to slip back into your skinny jeans or pencil skirt. Treat yourself to some comfortable clothes – garments that you can curl up for a quick nap in, while still being able to welcome an unexpected houseguest eager to see your little one. Think ribbed tops, yoga pants, fleecy jackets and fur-lined slippers. Aim for natural materials like cotton (and try to make sure they're machine-washable!).